Be a Firefighter >> Browse Articles >> Firefighter's Words
Rappelling into Hell: Helitack Firefighters
As mentioned, helitack crews are often first on the scene of a wildfire in hard-to-access country, such as mountainside forests, steep canyons and badlands. Usually a helicopter lands near the wildfire, letting out firefighters who hike in and begin clearing paths or building firelines to contain the fire until more ground crews arrive.
"There are places on this forest where the closest place to land would be an hour and a half away from the fire," Skeen said. "It can grow a lot in that time."
Rappelling is "a last resort," Skeen said. "Rappelling is just another tool to deliver firefighters to places where helicopters can't land."
Helitack crews first appeared on the firefighting scene in the late 1950s. The Gila and Cibola national forests already had helirappel crews. Skeen, who's been part of helitack crews since 1989, said Santa Fe National Forest has been trying to establish one since 2001.
The three women and five men on the Santa Fe National Forest crew first learned to rappel out of a 50-foot tower in Arizona. Then they had to complete a total of eight rappels out of the helicopter at progressively greater heights in open areas, dense forests and various other terrain.
Crew members must recertify every year by rappelling three times out of a helicopter.
Do Aerial Firefighters Need a College Degree?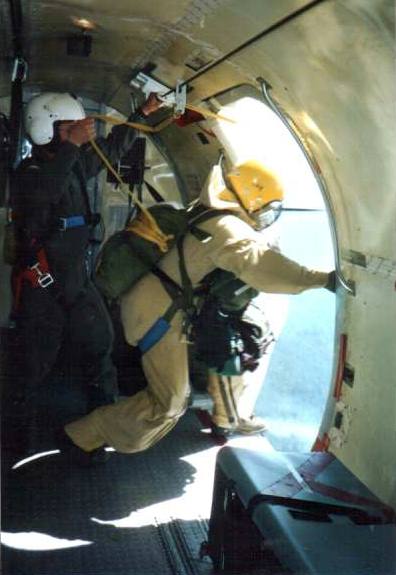 More and more departments are requiring that their firefighters have college degrees. By having a degree, you are more capable and valuable to a potential employer.
Learn about degree programs here.
Recommended degrees for Aerial Firefighters: Fire Science, Geology, or Fire Protection Engineering
Skeen said the Santa Fe National Forest has several areas where helirappelling skills could prove useful. Santa Fe Municipal Watershed is one of those hard-to-access areas, where it is crucial to contain a wildfire quickly to prevent damage to a major source of the city's water. "It's one of those 'values at risk' areas, where you don't want the fires to get too big," he said.
Skeen said portions of Bland Canyon in the Jemez Mountains are "notorious for not having places to land." The crew has cleared helicopter landing spots there, but they overgrow quickly with brush and vegetation.
Helitack crews are highly trained firefighters, but it remains a risky profession, like all firefighting. Accidents are rare, but devastating.
In 1987, a five-person helitack team was caught by a fast-moving wildfire in Northern California shortly after being dropped off by the helicopter, according to news reports. Four lived after crawling into their fire shelters. One died from exposure to smoke and flames.
In 2004, a 24-year-old helitack crew member, Eva Schicke, died after she was overrun by a fire near Yosemite National Park.
Could YOU be a smokejumper? Take the Quiz!
Read here about the life of a smokejumper!
---